Healthy Recipes!
Kefir Banana Swirl
Serving size – 1
Ingredients
½ cup plain kefir
½ mashed banana
¼ tsp vanilla
dash cinnamon
Directions
Mash banana with a fork until softened (I like it smooth with a few lumps)
Add kefir, vanilla and a dash of cinnamon. Gently stir together
Enjoy!
Nutrition
Calories – 110 calories
Protein – 8 g
Fat – 2.5 g
Carbohydrate – 18 g
Fibre – 1 g
Give this tasty recipe a try and tell me what you think!
Click here to post your comments on the blog, and to learn more about kefir, and how it can help boost your health and improve your digestion! 
Pizza On A Tortilla, With Fresh Arugula
Serving size  – 1
Ingredients
1 – 10" whole grain tortilla
3 – 4 tbsp tomato sauce
1 tbsp mixed Italian seasoning (dried)
3 slices of salami or pepperoni (or 2 oz chicken  breast)
2 tbsp diced red onion
½ red pepper, sliced
¼ cup shredded part skim mozzarella
2 cups fresh arugula
1 tsp olive oil (optional)
Directions
Broil tortilla in oven directly on the top rack for 1-2 minutes, or until lightly browned on one side. Flip over and then lightly brown it on the other side. Keep an eye on it to make sure it doesn't get too dark as it will be going back in the oven afterwards with the toppings. The goal is just to make it firm to use as your pizza base.
Remove the tortilla from the oven and place on a baking sheet. Switch the oven from broil to bake, and set to 400 degrees F
Begin adding to your pizza base. Add sauce to the tortilla, then sprinkle the dried herbs on the sauce.
Next add onion, peppers, and cheese. Top with sliced meat. (you can choose to layer it how you like, but this is what I do!)
Put the baking sheet with the tortilla back in the oven on the middle rack.
Bake for approximately 7-8 minutes until cheese is melted and tortilla is golden brown. Check it after 4-5 minutes, just to be safe.
While pizza is in the oven, prepare the fresh arugula. Rinse, pat dry with a paper towel and if you like, toss with 1 tsp olive oil.
Once the pizza is ready, remove from the oven, add the fresh arugula, slice and enjoy!
Nutrition: 405 Calories, 19 g protein, 13 g fat, 33 g carb
—————————————-
Ingredients
1 medium head cauliflower (approximately 500 grams)
1 clove garlic
1/8th tsp ground nutmeg
1 tbsp butter
pinch salt and pepper
optional – 2 tbsp grated parmesan cheese
Directions
Clean and cut cauliflower (florets and stem) into small pieces. Place in a microwave safe dish, cover and heat for 6-8 minutes until softened (time will vary depending on your microwave).
Using an immersion blender or food processor (or what i did was use the Nutribullet), add the cauliflower, garlic, butter, nutmeg, salt and pepper. Add parmesan if you like here as well.
Blend until smooth.
Enjoy!
Nutrition (approx): 250 grams (or 3/4 cup serving) – 109 calories, 6 g fibre, 5 g protein, 6 g fat, 10 g carbohydrate
———-
2 servings – 150 calories per serving
1 cup skim milk (or almond milk, soy or coconut milk)
1 cup water
4 tsp organic cocoa
2 tsp pure vanilla extract
1/8th tsp salt
3 large organic marshmallows (each cut in 4)
 Directions
Mix the first 5 ingredients in a large microwaveable cup. Microwave on high for 1 minute.
Remove from microwave, stir well, add marshmallows, then microwave another 30 seconds.
Keep an eye on it as the marshmallows may cause it to overflow, if it is filled too close to the top.
After the 30 seconds are up, stir and heat another 30 – 60 seconds until marshmallows are melted and chocolate is well blended.
Enjoy!
————————————–
Makes 6-8 small pancakes
Ingredients
 

1 cup dry rolled oats

2 eggs

1 tsp vegetable oil

½ cup 1% or skim milk

1 ½

 

tsp baking powder

½ tsp vanilla

½ tsp cinnamon

2 pears, sliced

Lemon juice

Earth balance spread or butter for cooking (2-3 tsp)
Directions
Mix all of the ingredients in a blender, food processor or if you have one – it works well in the nutribullet.

 

Blend until the mixture is smooth.
Add earth balance or butter to a non-stick pan and heat over medium heat
Use ¼ cup scoop to measure pancakes. Pour batter into pan and cook until the edges of the pancakes start to look dry and there are bubbles forming on top.
Flip and lightly brown the other side – another minute or so. Repeat with remaining batter.
While pancakes are cooking, slice pear. Squeeze a little lemon juice over cut pear to slow browning of pear.
Serve pancakes with sliced pears and enjoy!
 Nutrition breakdown (based on a recipe yield of 6 pancakes)
Per Pancake  – 120 calories, 5 grams protein, 4 grams fat, 12 grams carbohydrate, 2 grams fibre
½ cup sliced pears – 41 calories, 0 grams protein, 0 grams fat, 11 grams carbohydrate, 2 grams fibre
———-
Whole Roast Cauliflower with Lemon, Olive Oil & Cumin
Recipe Serves 2-4
1 cauliflower, remove outer leaves
1/2 tsp ground cumin
1/2 tsp lemon zest
1 tbsp olive oil
lemon juice – from 1/2 lemon
pinch salt
1. Preheat the oven to 400 degrees F (200 degrees C).
2. Mix the cumin, olive oil, salt and lemon zest in a small dish and drizzle over the cauliflower.
3. Roast for 45 minutes to an hour. Check after 20 minutes – if the cauliflower is getting too dark, cover with foil.
4. It's ready when skewer or knife only has a little resistance when inserted.
5. Remove from oven and squeeze lemon over cauliflower
6. Add a little more salt if necessary to your taste.
7. Enjoy as a side dish with grilled chicken or salmon!
——-
Kale Chips!
Recipe yield 1-2 servings
Ingredients
1 bunch of kale
2 tsp olive oil
1/4 tsp seasoned salt
Directions
pre-heat oven to 350 degrees F (175 degrees C)
line a baking sheet with parchment paper
carefully remove the kale leaves from the stems and tear into bite sized pieces
wash kale and dry thoroughly with paper towel (or if you have a salad spinner, use it!)
drizzle with olive oil and sprinkle with seasoning salt
bake for 10 – 15 minutes until edges are brown (keep a close eye, as you don't want them to get burnt).
Watercress Salad
I found this recipe on foodnetwork.com and it just looked too delicious not to share! below I've also included some of the health benefits of watercress, just because as a Dietitian, I couldn't resist =)
from foodnetwork.com
Watercress is a nutrient packed vegetable that is virtually calorie free! With only 4 calories in a cup of watercress (this is without dressing of course), and almost 10 times the vitamin A found in iceberg lettuce, this veggie is one we should include more often. Using watercress instead of more common greens such as green leaf or romaine lettuce provides variety, and as we all know, variety is the spice of life!
Click here to check out the recipe
Balsamic Chicken
Here's another great recipe -yum!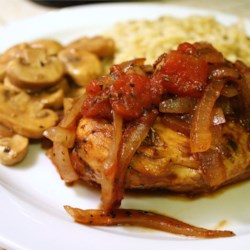 from www.allrecipes.com
Chicken is quick and easy, and naturally low in fat. Compared to chicken thighs, chicken breast have about 1/3 the saturated fat found in thighs, which is very especially important if you are watching your cholesterol. Don't be afraid to use a small amount of healthy oils when cooking to provide that extra flavor. This recipe uses good old olive oil
Click here to check out the recipe
Curious about the meal plans? Please contact me and i will personally let you know which meal plan would suit you best!